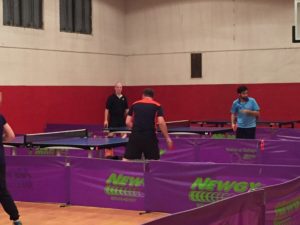 Congratulation to Nicolae, our champion of the November 2017 KTTC 41-point Handicap Club Tournament. On November 14th, 2017, KTTC hosts a club tournament using the USATT 41-point handicap system. The tournament uses single elimination format and 16 warriors have signed up to battle for the championship title. Every player puts in $3.00 for the prize money pool. The winner takes 50% of the pool money and 1st runner-up will take 25% of the pool money.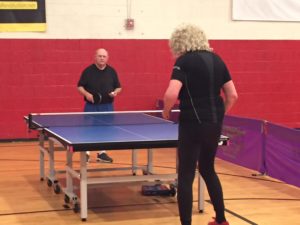 Since there was no seeding in this tournament, the draw was done by the players themselves through a random lot of their position on the draw. The tournament was quite a nerve-wrecking experience especially for those with higher USATT rating players. As always, there are many upsets as well. First time participant Olena (USATT rating: 714) upset Bruce (USATT rating: 1713) in the first round with a score of 41 to 31. That's close to 999 point rating difference! Olena has a head start of 32 points. So it was quite a challenge for Bruce.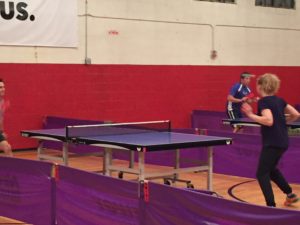 On the other bracket, Ali has to overcome a 19-point handicap disadvantage to defeat Steve with a final score of 41 to 35 just to get past first round!
In the Semi-Finals, the first match is between Martin and Gishelle. Martin (USATT rating: 2105) is the highest rated player and Gishelle (Estimated rating: 950) is our first time participant. Martin has to give 33 points to every player he plays. He has played brilliantly and made up lots of ground in the first two rounds. But in the semi-final, he has found his match to another 33-point disadvantage and was defeated by Giselle with a final score 41 to 33.
The second Semi-Final match is between Ali (USATT rating: 1968) and Nic (USATT rating: 1667). Nic has a 15 points head start against Ali. Both players had plenty of rallying points and it is Nic who come out on top in the end with a score of 41 to 33.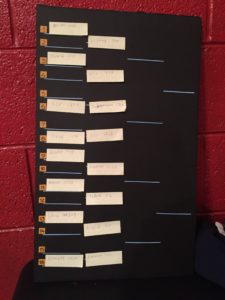 In the Final, it was between Gishelle and Nic where Gishelle has a 26 points advantage over Nic. The two are familiar with each other playing style from regular club playing. So Nic has a game plan on Gishelle and took home the championship with a final score of 41 to 34.
Thanks every one for participating the event and we hope every one had a great time. We will see you in our next club tournament.
The full tournament results:
1st Round:
Victor beats Brian (+30) 41-33
Nic beats Dwain (+10) 41-28
Jonathan (+7) beats Ely 41-37
Ali beats Steve (+19) 41-35
Martin beats Geoff (+33) 41-37
Olena (+32) beats Bruce 41-31
Gishelle beats Greg (+8) 41-33
Kermit (+15) beats HyunWoo 41-33
2nd Round:
Niv beats Victor (+14) 41-27
Ali beats Jonathan (+12) 41-37
Martin beats Olena (+33) 41-37
Gishelle (+21) beats Kermit 41-31
Semi-Finals:
Gishelle (+33) beats Martin 41-33
Nic (+15) beats Ali 41-33
Final:
Nic beats Gishelle (+26) 41-34